---
March 27-30, 2014 – Season 3
Owens Auditorium
---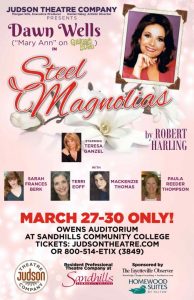 Steel Magnolias is the hilarious and heartwarming story of six forever friends, told from their home away from home: Truvy's Beauty Spot, a Louisiana beauty parlor. The play was originally produced off-Broadway in 1987 and revived on Broadway in 2005. It was adapted into an all-star film in 1989 and re-made for television in 2012.
---
Meet the Cast
---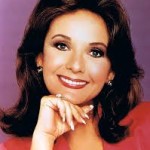 Dawn Wells (Ouiser Boudreaux)  There is so much more to Dawn Wells than Mary Ann of Gilligan's Island (the longest running sitcom still showing worldwide in over 30 languages!). She's an actress, producer, author, spokesperson, journalist, motivational speaker, teacher, and chairwoman of the Terry Lee Wells Foundation–focusing on women and children in Northern Nevada.
She has starred in over 150 tv shows, and 7 motion pictures, including Winterhawk (which she also narrated), The Town That Dreaded Sundown (with Andrew Prine), Super Sucker (with Jeff Daniels), The New Interns, It's Our Time, and most recently, Silent But Deadly.
She has starred in 60+ theatrical productions from Noel Coward to Neil Simon, as well as the National Tours of Chapter Two and They're Playing Our Song. Favorite productions include Fatal Attraction with Ken Howard, The Odd Couple with Marcia Wallace,Tale of the Allergist's Wife, Steel Magnolias, and The Vagina Monologues.  Dawn has starred as Gingy in Love, Loss and What I Wore (by Nora and Delia Ephron) in New York, Chicago, Delaware, Scottsdale, and San Jose.
She was the "castaway correspondent" for Channel 9 (Sydney, Australia) interviewing such actors and directors as Robin Williams, Eddie Murphy, Julia Roberts, Rene Russo, Mel Gibson, Ron Howard, and Richard Donner.  And recently just presented Sandra Bullock with a Coconut Cream Pie, (as the two women both knew what it's like to be stranded) for the premiere of Gravity.
As a producer, she brought two Movies of the Week to CBS:  Surviving Gilligan's Island, and Return to the Bat Cave with Adam West.  She ran her Film Actors Boot Camp for 7 years in Idaho.
In September of 2014, Gilligan's Island celebrates 50 years; Dawn is writing her memoirs and developing a documentary. She is also developing several television projects. www.dawnwells.com
---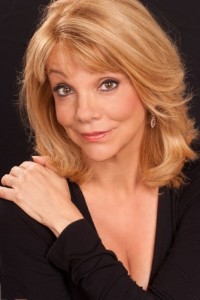 Teresa Ganzel (Truvy Jones) is often recognized as Fancy Bates, the wife of Jackie Gleason's character in the film The Toy–and for her 35 appearances doing sketches with Johnny Carson for the last ten years of his Tonight Show. She guest starred in countless television comedies and was a regular on several series such as The Duck Factory with Jim Carrey and Teachers Only with Lynn Redgrave. She starred in the play Viagara Falls that toured cross country including New York. She also enjoys voice over work. She is thrilled for her Judson Theatre Company debut and for her first time in North Carolina!
---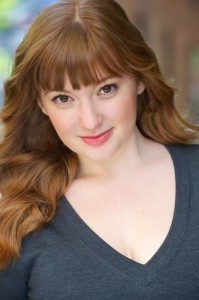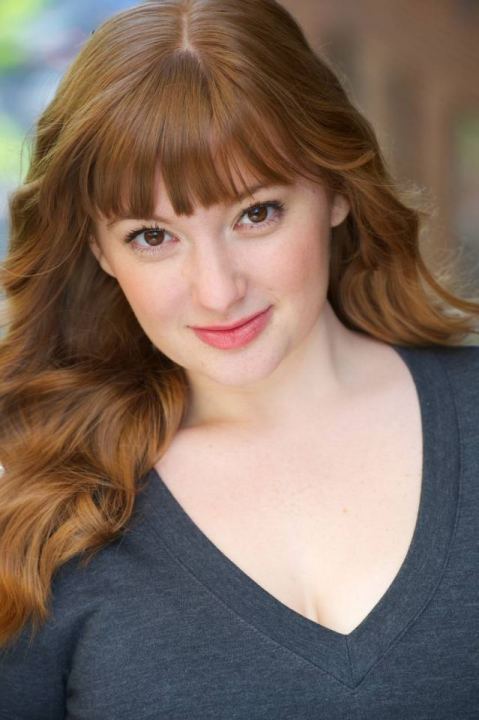 Sarah Frances Berk (Annelle Dupuy Desoto) is thrilled to be returning to her hometown as a part of Steel Magnolias! NYC: HappYouth (Gene Frankel Theater); Rubber Ducks & Sunsets (Tribeca Playhouse); The Collective, Letters from Algeria, The Importance of Being Earnest and 516 (GroundUP Productions); Regional: Nicholas Nickleby, Pride & Prejudice, and The Little Prince (Playmakers Rep). Graduate of UNC-Chapel Hill & London Academy of Music & Dramatic Art. www.sarahberkactress.com.
---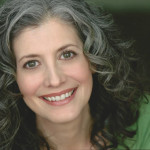 Terri Eoff (M'Lynn Eatenton) Terri is excited and happy to be working with Judson Theatre Company in beautiful Pinehurst. Her credits include: Disney Channel's Emerald Cove and The All New Mickey Mouse Club, NBC's Search for Tomorrow and Another World, and ABC's All My Children. Regional theatre credits include: It Had To Be You, Talley's Folly, Luv, Same Time Next Year and Out of Sterno. In addition, she has been the on-camera and voice-over principal in over 120 network, international, and regional commercials. Terri sends much love and gratitude to Jeff, Pat and the LaMarre family. And to Bea, her favorite Steel Magnolia, "Thank you, Mama!".
---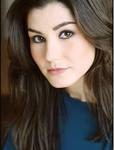 Mackenzie Thomas (Shelby Eatenton Latcherie) Born in Pinehurst, Mackenzie is thrilled to be back home and performing at Owens Auditorium where she was last seen as the title role in Sandhills Theatre Company's production of Peter Pan. Broadway: Mamma Mia! Broadway North American Tour: Mamma Mia! (Ali); International: Disney on Classic 2011 (Ariel) & 2012 (Jasmine), tour of Japan and S. Korea, Olympic Concert 2012 (Soloist with the Tokyo Philharmonic Orchestra); Song of an Angel (Lead) at Universal Studios in Osaka, Japan; Regional Theatre: NC Theatre, Tuacahn (Utah), Indiana Rep, Syracuse Stage, Chicago Ravinia Festival, NYC's York Theatre Company; TV: NBC's Fame, NBC's Grease: You're the One That I Want. Graduate of Michigan's Interlochen Arts Academy, Bachelor's of Music degree from Northwestern University. A proud member of Actors Equity Union, Mackenzie currently resides in LA with her new husband, Peter. Thanks so much to family and friends! www.mackenzie-thomas.com
---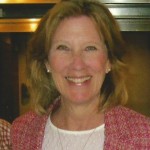 Paula Reeder Thompson (Clairee Belcher) Born in Charleston, SC, she has also lived in Iowa, California, New Jersey, Ohio, and for the past 30 years in Moore County outside of Carthage with her husband David on a small cattle farm. She has enjoyed a full life of both urban and rural life experiences. She is the proud mother of Max Reeder, her son, three stepchildren and five grandchildren along with many household pets. After graduating from Ashland College in 1973 with a degree in Theater Education, she taught in Cleveland before moving to Moore County, where she spent 15 years managing, directing and acting in numerous productions at Sandhills Little Theater.
---
Joyce Reehling* (standby: Ouiser) spent over 30 years in New York working in the theatre. On Broadway, she appeared in Fifth of July and Prelude to a Kiss. She was a member of the prestigious Circle Repertory Company where she originated many roles for Lanford Wilson, Milan Stitt, David Mamet and others. Joyce worked with William Hurt, Christopher Reeve, Richard Thomas, Debra Monk, Swoosie Kurtz, Jeff Daniels, Cynthia Nixon to name a few. Joyce did many commercials for TV and Radio; she was the first Dr. Mom and was the voice of IKEA on radio. TV shows such as Law & Order, Ed, Kate and Allie, NYPD Blue, Cosby and numerous daytime dramas were a part of her career. She is a proud member of Actors Equity and SAG-AFTRA. She and her husband now reside in Pinehurst and she writes for The Pilot.
---
History of the Play
---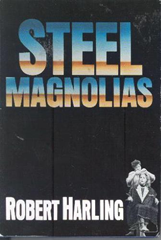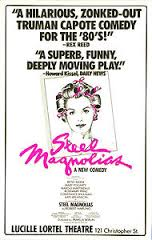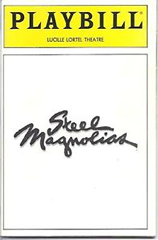 ABOUT THE PLAY: Robert Harling originally wrote Steel Magnolias as a short story, as a gift to a family member. It took Harling ten days to evolve the story into a play. It opened off-Broadway in March 1987 and then transferred to the Lucille Lortel Theatre, closing in February 1990 after 1126 performances.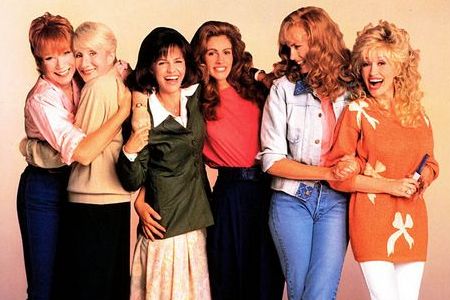 ABOUT THE FILM: Steel Magnolias really became part of pop culture with Herb Ross' 1989 film version, which boasted an all star cast: Julia Roberts, Sally Field, Shirley MacLaine, Dolly Parton, Daryl Hannah, and Olympia Dukakis. The quotable dialogue from the play was retained by Harling in his screenplay adaptation. Opening up the play for filmic treatment meant adding men to the cast: Sam Shepard, Dylan McDermott, and Tom Skerritt. To date the film has grossed over $135 million, and is a home video and tv favorite—the title has entered the cultural lexicon to describe a certain kind of resilient Southern woman.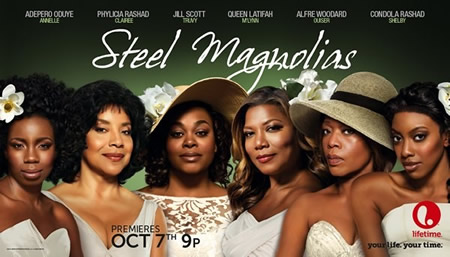 ON TELEVISION: In 1990 a TV Pilot was made, with a story that picked up where the play left off. The pilot starred Cindy Williams, Sally Kellerman, Elaine Stritch, Polly Bergen. It aired only once and was not picked up for series.
In 2012, there was a Lifetime television remake starring Queen Latifah, Phylicia Rashad (and daughter Condola as Shelby), and Alfre Woodard.
ON BROADWAY: The play finally reached Broadway in a March-July 2005 all-star revival at the Lyceum Theatre that played 23 previews and 136 performances. The cast included Delta Burke, Marsha Mason, Frances Sternhagen, Lily Rabe, Rebecca Gayheart, and Christine Ebersole.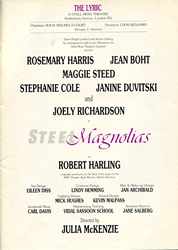 AROUND THE WORLD: The play has been produced worldwide in London (starring Rosemary Harris), Japan, Sweden, and Ireland among others. It is constantly produced in professional, educational, and community theatres in America.