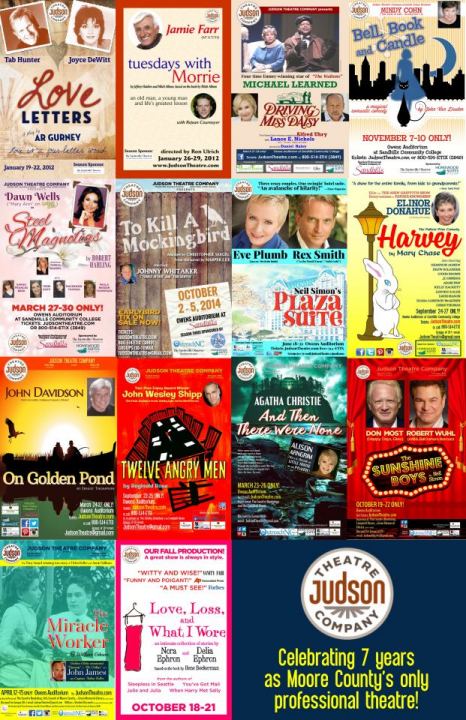 Get our newsletter!

This stylish and entertaining hit comedy from the authors of Sleepless in Seattle, Julie & Julia, When Harry Met Sally and You've Got Mail  proves that fun is always in fashion! Featuring Emmy & Golden Globe Award winner SALLY STRUTHERS (All in the Family, Gilmore Girls) and Broadway, film, and television favorite (and The Pilot columnist) JOYCE REEHLING.
Read these rave reviews for Judson Theatre Company!
"A must see! If you are on the fence, get off it and get your tickets now! Judson Theatre Company has once again brought Broadway-quality theatre to the Sandhills in a way that no one could else could do." –Sandhills Sentinel
"I just have to say, this production was one of the best I have ever seen, of any kind." — Claire B.(Audience Member)

"Don't miss it! Their work brought laughter, tears and thought in the way only live theater can." –The Pilot
"***** Broadway quality theater in our own back yard." – Roger F. (Audience Member)
"12 ANGRY MEN was the best show I have ever seen!!!  Everything was perfect – the cast, set and crowd." –Kathy J. (Audience Member)
"That intricate dance of timing and subtlety you see when wonderful actors are at work." –The Pilot
"Thank you Judson Theatre Company for 5 years of quality theatre right here in Moore County!" – Kim P. (Audience Member)
"Enjoyable evening, lots of laughs and great performances!" – Shirley M. (Audience Member)

Before Helen Keller inspired millions,
one extraordinary woman inspired her.
Based on the remarkable true story of Helen Keller and her teacher Annie Sullivan, this inspiring and unforgettable Tony Award winning play has moved generations of theatregoers and become an American classic. Young Helen Keller–blind, deaf, and mute since infancy–is in danger of being sent to an institution because her inability to communicate has left her frustrated and violent. In desperation, her parents seek help from the Perkins Institute, which sends them Annie Sullivan to tutor their daughter. Annie suspects that within Helen lies the potential for more…but will she be able to teach her to communicate and bring her into the world at last?
The Miracle Worker is the powerful true story of one of the most inspirational figures of all time. The JTC production is headlined by Golden Globe nominated Dynasty and The Colbys star John James as Captain Arthur Keller.