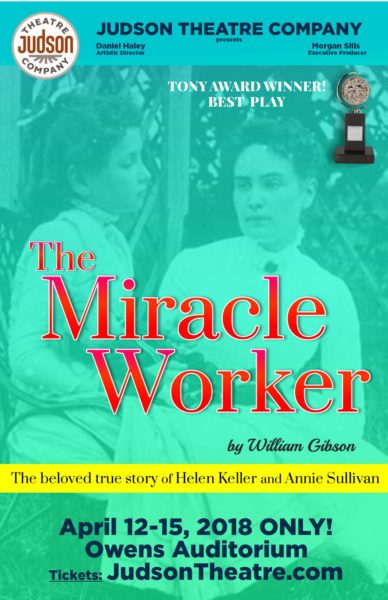 Helen Keller lives in a prison of silence and darkness. As a last chance before she is institutionalized, her parents contact Annie Sullivan, a dedicated teacher. As Sullivan struggles to reach Helen, she must also confront the obstacles in Helen's family: her domineering father, her heartbroken mother and her resentful brother. The Miracle Worker is the powerful true story of one of the most inspirational figures of all time.
5 Performances Only – Owens Auditorium in Pinehurst:
Thursday, April 12, 2018 at 7:00 pm (early curtain)
Friday, April 13, 2018 at 8:00 pm
Saturday, April 14, 2018 at 2:00 pm (matinee)
Saturday, April 14, 2018 at 8:00 pm
Sunday, April 15, 2018 at 3:00 pm (matinee)

Read these rave reviews for Judson Theatre Company!
"I just have to say, this production was one of the best I have ever seen, of any kind." — Claire B.(Audience Member)

"Don't miss it! Their work brought laughter, tears and thought in the way only live theater can." –The Pilot
"***** Broadway quality theater in our own back yard." – Roger F. (Audience Member)
"12 ANGRY MEN was the best show I have ever seen!!!  Everything was perfect – the cast, set and crowd." –Kathy J. (Audience Member)
"That intricate dance of timing and subtlety you see when wonderful actors are at work." –The Pilot
"Thank you Judson Theatre Company for 5 years of quality theatre right here in Moore County!" – Kim P. (Audience Member)
"Enjoyable evening, lots of laughs and great performances!" – Shirley M. (Audience Member)