If you love to laugh, don't miss JTC's riotous production of Neil Simon's comedy classic THE SUNSHINE BOYS! Al and Willie as "Lewis and Clark" were top-billed vaudevillians for decades…but now they aren't even speaking! When CBS requests they reunite for a "History of Comedy" television special, the sparks and one-liners start to fly with equal speed. But can Lewis and Clark put aside their differences long enough to collect one last paycheck?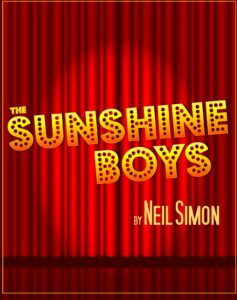 The Sunshine Boys performs October 19-22 at Owens Auditorium.
The start date of the Owens Auditorium renovation has been set–and it means we'll be able to perform both of our shows in our home theatre in 2017 after all! We'll be saving the previously announced Love, Loss and What I Wore to be one of our 2018 productions when we have to be off-site during the Owens Auditorium renovation.