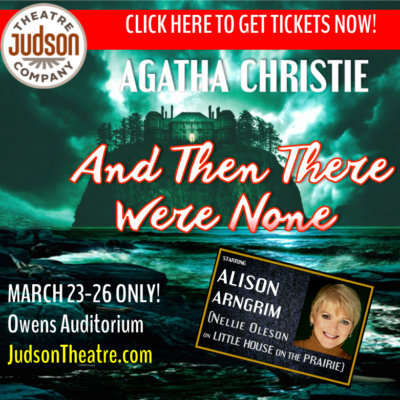 Watch the SCREAMING STANDING OVATION
for AND THEN THERE WERE NONE!
Audiences are loving JTC's production of the Agatha Christie classic, starring Alison Arngrim!  Join us for one of our final performances–must close March 26.
It's thrills, chills, and fun at AND THEN THERE WERE NONE!
Agatha Christie is the world's bestselling author and the most successful female playwright of all time. Her stage adaptation of her biggest selling novel, AND THEN THERE WERE NONE (still the bestselling mystery of all time) opens JTC's sixth season: March 23-26–starring ALISON ARNGRIM (Nellie Oleson on LITTLE HOUSE ON THE PRAIRIE) as Emily Brent!
AND THEN THERE WERE NONE is a classic British murder mystery set in the late 1930s that begins with ten guilty strangers being trapped in a mansion on Soldier Island off the coast of Devon. Upon arrival it is discovered that their host, an eccentric millionaire, is missing. A recorded message is played accusing each of them in turn of having gotten away with murder, and one by one the guests begin to die at the hands of a diabolical avenger via means foreshadowed by a nursery rhyme above the mantel telling how each of ten soldier boys met his death…and then there were none. Stranded on the island by a torrential storm and haunted by the ancient nursery rhyme, with only the fallen believed to be innocent, which of them is the killer?
5 Performances Only – Owens Auditorium in Pinehurst:
Thursday, March 23 at 7:00 pm (early curtain)
Friday, March 24 at 8:00 pm
Saturday, March 25 at 2:00 pm (matinee)
Saturday, March 25 at 8:00 pm
Sunday, March 26 at 3:00 pm (matinee)
Read these rave reviews for Judson Theatre Company!
"I just have to say, this production was one of the best I have ever seen, of any kind." — Claire B.(Audience Member)

"Don't miss it! Their work brought laughter, tears and thought in the way only live theater can." –The Pilot
"***** Broadway quality theater in our own back yard." – Roger F. (Audience Member)
"12 ANGRY MEN was the best show I have ever seen!!!  Everything was perfect – the cast, set and crowd." –Kathy J. (Audience Member)
"That intricate dance of timing and subtlety you see when wonderful actors are at work." –The Pilot
"Thank you Judson Theatre Company for 5 years of quality theatre right here in Moore County!" – Kim P. (Audience Member)
"Enjoyable evening, lots of laughs and great performances!" – Shirley M. (Audience Member)